Configure printer profiles in Restaurant Manager for every physical printer in your restaurant environment (e.g. receipt printers, kitchen printers or bar printers). If you have four unique printers in your restaurant, then you should have four printers configured in Restaurant Manager.
A printer in Restaurant Manager can also be a virtual printer for emailing receipts and invoices.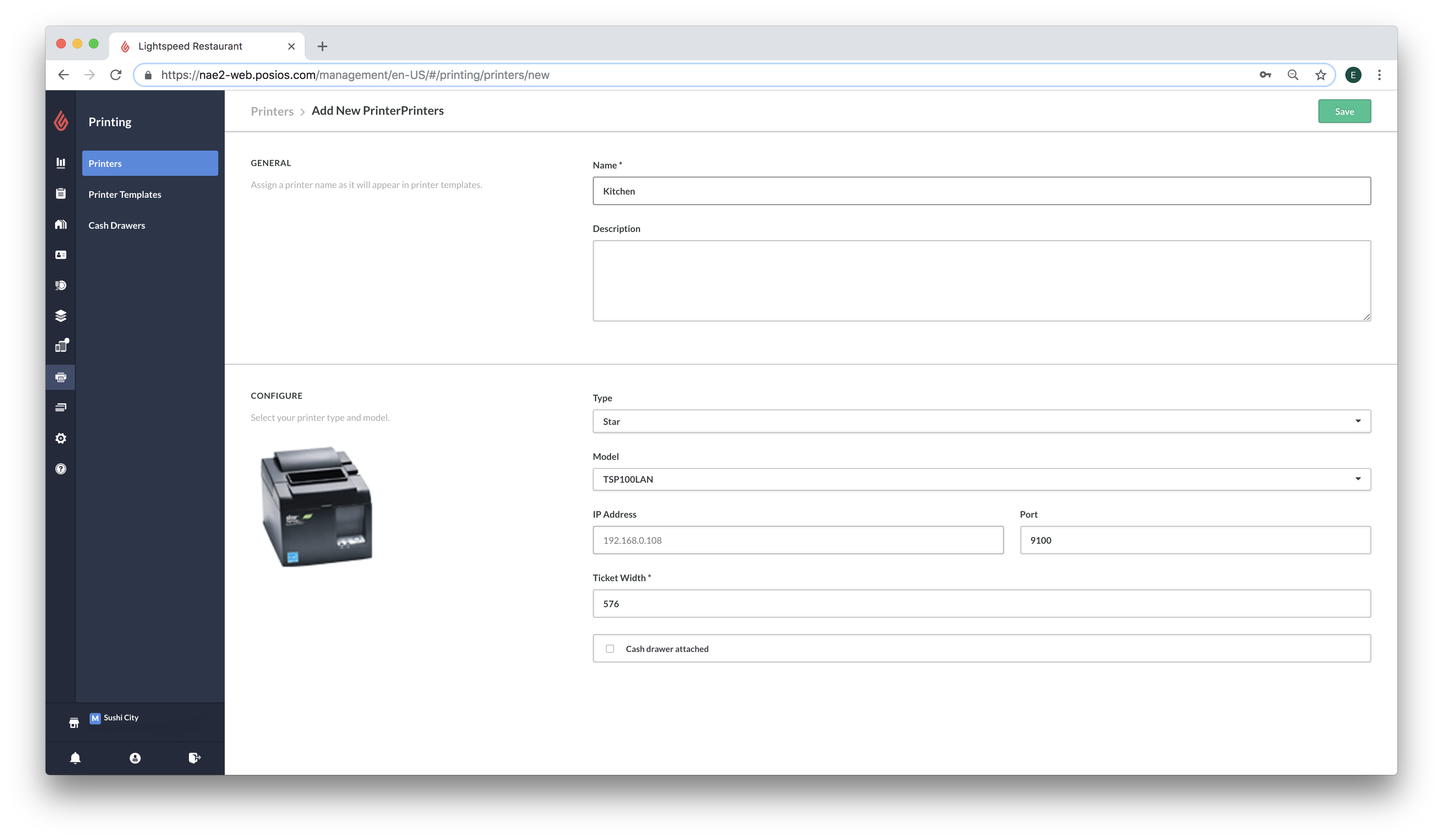 In Restaurant Manager, from the Printers page click the Printers tab.
Click Add Printer.
Specify the settings and click OK.
Settings
NAME

Create a name for the printer. This will be the name you select when assigning a printer template to the printer.

DESCRIPTION
Enter a description of the printer (optional).
TYPE

The printer type determines its functionality. For receipt, kitchen, and bar printers, select the brand of the receipt printer. For a virtual printer for emailing customers or users select either Email Customer or Email User.

MODEL
Select the printer model. 
IP ADDRESS

IP address of the printer on the network.

To retrieve your printer's IP address:

Power the printer and connect it to the network you use for your iPad devices.
To ensure that your printer's IP address does not change, your printer must be assigned a static (reserved) IP address in your router settings.
Turn the printer off.
While pressing the Feed button, turn the printer on and continue to press the Feed button for approximately 7 seconds. The IP address is displayed on the printed receipt.

PORT

Don't change this value.
WIDTH

Don't change this value.

CASH DRAWER ATTACHED

Enable this setting if a cash drawer is connected to the receipt printer. This will automatically open the cash drawer when a receipt is printed.
What's next
After you add a printer assign a printer template to it. See Creating Printer Templates.