Report Settings determine the specifics of reports generated in both the Restaurant Manager and Restaurant POS app. To understand the various reports in the Restaurant Manager, please visit Reporting and Data. For an overview of reports in the Restaurant POS app, please visit Reporting.
To access Report Settings
In Restaurant Manager, click Settings in the lefthand menu.
Select Report Settings.

Specify the settings and click

Save

.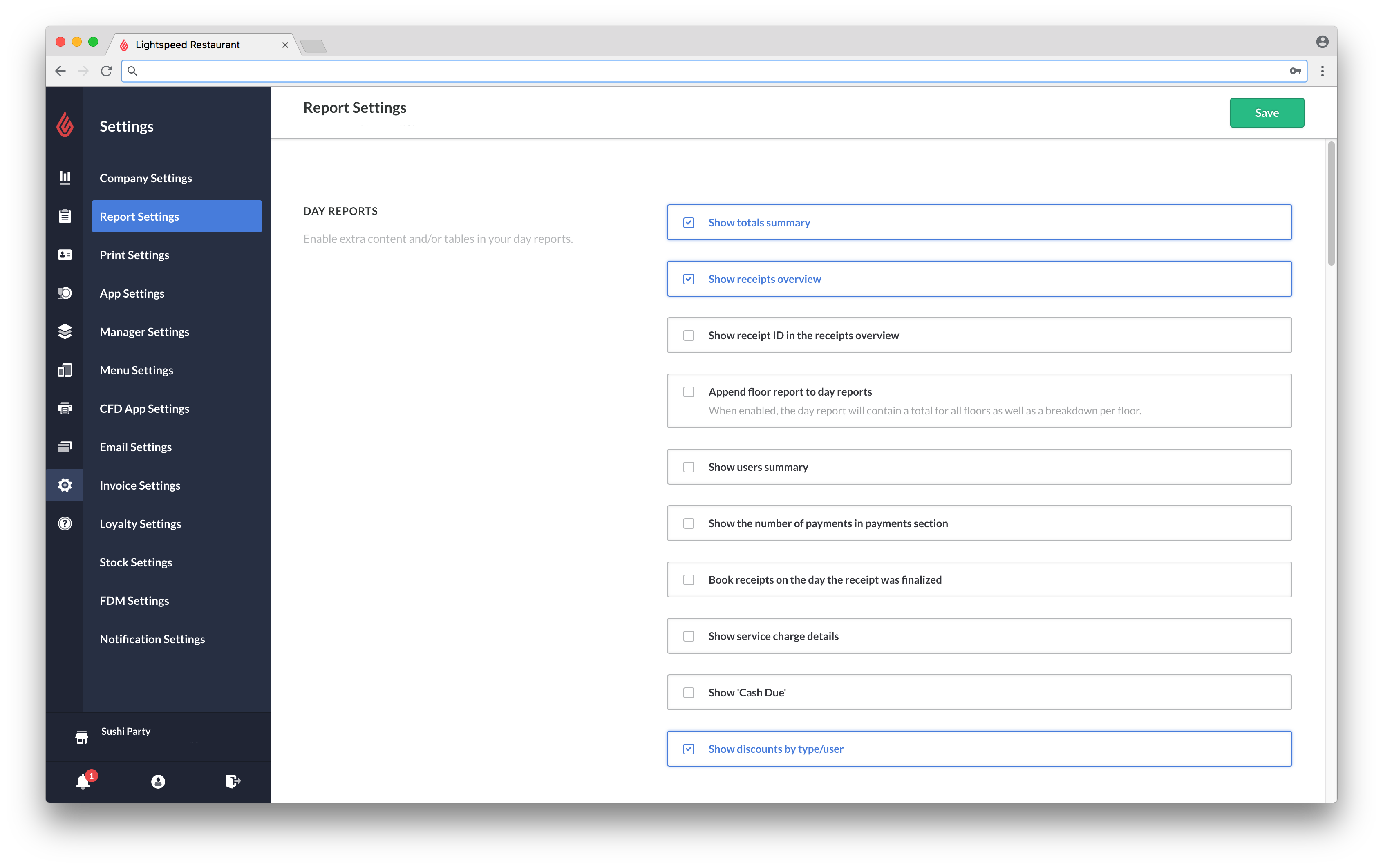 Available settings
DAY REPORTS

Enable extra content and/or tables in your day reports. Day Reports are available in both the Restaurant Manager and Restaurant POS app

Show totals summary

Show receipt overview

Show receipt ID in receipt overview

Append floor report to day reports: When enabled, the day report will contain a total for all floors as well as a breakdown per floor.

Show

users

summary

Show the number of payments in payments section

Book receipts on the day the receipt was finalized

Show service charge details

Show "Cash Due"

Show discounts by type/user

DAY REPORT REVENUES

Enable different revenue tables/content in day reports

Show category revenues
Show product revenues in category revenues
Show product additions (modifiers) in product revenues
Show table revenues
Show floor revenues

CASH DRAWER REPORTS

Cash Drawer reports are available in the Restaurant POS app

Show cash drawer info in day reports
Show overview of receipts for each cash drawer
Show cash drawer balance: Shows totals for each cash drawer.
Show cash drawer info in floors reports (in day reports)
Show cash drawer adjustment details

DAY, PRODUCT AND CATEGORY REPORTS

Enable settings for Day, Product and Category reports simultaneously. Product and Category reports are available in the Restaurant Manager

Show cost and profit columns
Show product additions (modifiers)

TIPS

Tip pool rate (%): Specify the percentage of each tip that is set aside for the tip pool to get distributed among all staff.
Tip refund rate (%): The percentage that gets deducted from Tips paid with credit cards.
Show tips in day reports (when enabled, Tip pool or refund rate displays on User, Day, Shift, and Closing Reports)

USER REPORTS

User reports are available in both the Restaurant Manager and Restaurant POS app

Show breakdown of payments by receipt
Show 'Cash Due'
Show product sales by user
Show user revenue sorted by category type

CLOSING REPORTS (X/Z)

Closing Reports are available in both the Restaurant Manager and Restaurant POS app, but generating a Closing Report (Z) in either application will reset your sales totals

Generate an automatic Closing Report (Z) in the Restaurant Manager at a specified time
Enabling "Closing Reports" allows users (with specified permissions, ie. a manager) to run a Closing Report (X/Z) in the Restaurant POS app

SHIFT SETTINGS

Shift Reports are available in the Restaurant Manager

To create a report for a specified block of time, add a Shift. Shifts are specified time periods within your business day. Shifts must have a designated name, time, and must be constant (occurring at the same time each day of the week)

GENERAL REPORT SETTINGS

Choose a character to separate your values. Delimiter options include either a comma or semi-colon.
Show sales and tax info (vat excl. companies only): When enabled, receipt reports, hour reports, day reports, week reports, month reports, and user reports show a detailed breakdown of the sales taxes that are collected, as well as tax-exempted sales.
Add creation date and time in reports
Show voided ticket details in day and user reports
Show payment information in detailed receipt sections