You can assign Timed Events (see Creating timed events) to individual products, to all products in a category, or to all products in a menu. A product can be linked to more than one Timed Event. Timed Events that are assigned to a category apply to every product in the category. If more than one assigned event is active at the same time for a product, only the Timed Event with the highest priority level applies.
In Restaurant Manager, on the Products page click the Products tab.
Click the Category or Product tab and the category you want to work with.
If you're assigning a timed event to a product or menu, click the product or menu.
In the Advanced section click Timed Events.
Choose one or more modifiers from the list. For products, Timed Events that are assigned through a category cannot be selected, and appear with a lock icon.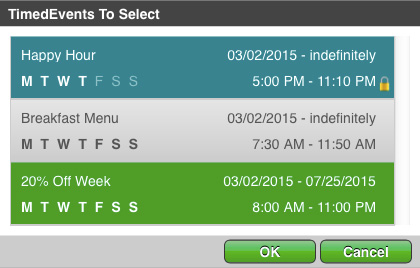 Click OK.
Layout in Restaurant POS
To ensure proper layout of products in when you use Visibility Timed Events you can also assign a Visibility Timed Event to a "Spacing" product. See Sorting Products.