Lightspeed Self-Order Menu places ordering directly in the hands of your customers. The Self-Order app is available for download from the Apple App Store.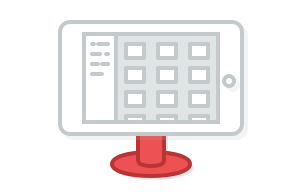 Lightspeed Self-Order Menu allows you to:
Reduce customer wait times
Process orders faster
Free up waiters so they can interact with customers
Ultimately increase sales
 Self-Order Menu has 2 variations
Kiosk mode

Ideal for quick service restaurant environments.

In Kiosk mode, the customer orders and pays directly on the iPad. The order is then sent directly to the kitchen. 

Table mode

Ideal for multi-order table service restaurant environments. For example, all-you-can-eat Sushi.

In Table mode, the iPad is affiliated with a specific table. Customers can place orders at any time throughout their meal. When they are ready to pay, the waiter processes the payment at the table. 
Before getting started with Self-Order Menu, please contact Lightspeed to set up an account.