Before taking payments in Restaurant POS, create payment types in Restaurant Manager. Integrated payment processors such as Moneris or Cayan require a dedicated payment type. To learn how to set up your payment processor see About payment processing.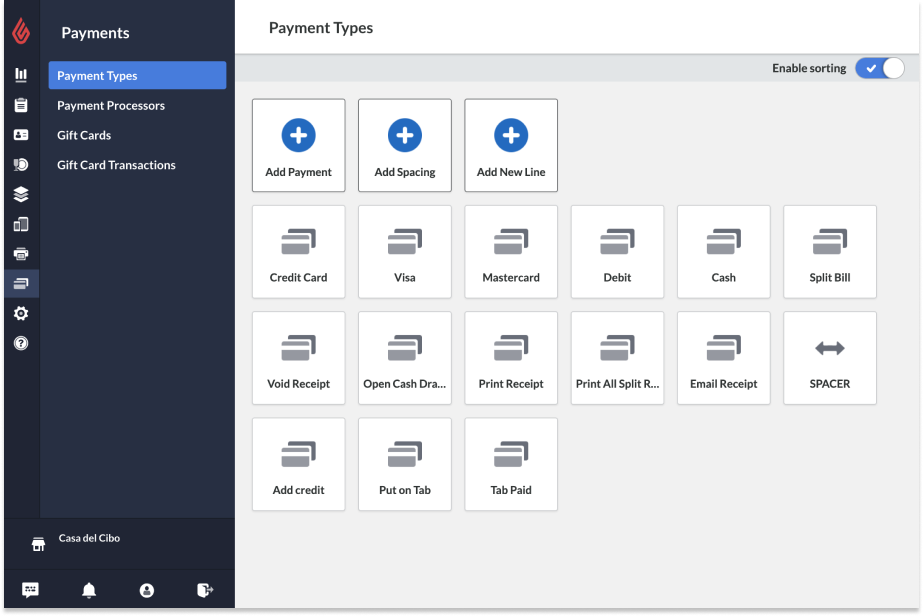 Adding a new payment type
In Restaurant Manager, click Payments.
Click Add Payment.
Specify the settings and click OK.
Settings
NAME
Payment name that will display in Restaurant POS and reports.
DESCRIPTION
A description of the payment type. Note that this will only appear in Restaurant Manager.
TYPE

Determines the payment type's function in Restaurant POS. The available payment types depend on your region. Here are some examples:

Cash
Card
No Payment
Room
Open Cash drawer
Print Receipt
Adyen
Debit

COLOR
Color for payment button in Restaurant POS.
AUTO FINALIZE
If enabled, the receipt will finalize once the payment is successfully processed.
AUTO PRINT
If enabled, a receipt will automatically print when you tap this payment type in Restaurant POS.
Organizing payment types
To rearrange how your payment buttons will appear in Restaurant POS, click Enable sorting and move the payment method to its new location. To add spaces and line breaks click Add Spacing or Add New Line.
Payment types in Quick Service mode
When Quick Service mode is enabled, the order of payment buttons on the Order screen of the Restaurant POS will always be Cash, Card, and More. It is possible to edit the Card button displayed on the POS in Quick Service mode by creating a Card payment type and naming the Card payment type (ie Credit card, Visa, Mastercard). When specifying the Card name for Quick Service mode, ensure that Enable sorting is toggled on and move the Card button to the first position on the Payment Types page.
For more information on using Quick Service mode, see About Quick Service mode.