You can open previously finalized receipts for reprinting, refunding (voiding), and adding/removing products, using the following methods:
By table (for receipts in last 24 hours only)
By receipt ID/Sequential ID (for older receipts)
From the Orders List
Belgium FDM users
For Belgium FDM users, it is not possible to add or remove items from a receipt, or reprint the VAT (BTW) receipt. However, you can add payments.
Opening a receipt by a table
For receipts printed within the past 24 hours and you know which table generated the receipt.
On the Tables screen, tap-and-hold the table that generated the receipt. The receipt list appears.
Tap the desired receipt. The receipt's Order screen appears.
By receipt ID or Sequential ID
For receipts printed more than 24 hours ago or if you're unsure which table finalized the receipt.
On the Tables screen, tap Extra.
Tap Open receipt using ID.
Enter the Receipt ID/Sequential ID.
Tap Load Receipt. The receipt's Order screen appears.
Using the Orders List to open a receipt
Tap Orders in the navigation bar at the bottom of the screen to access the Orders List.
Use the search bar to locate the receipt. Orders can be searched by:

Customer name
Receipt ID
Table number
Last 4 digits of a credit card number
Payment amount
NOTE: You can only search for orders using one criteria at a time.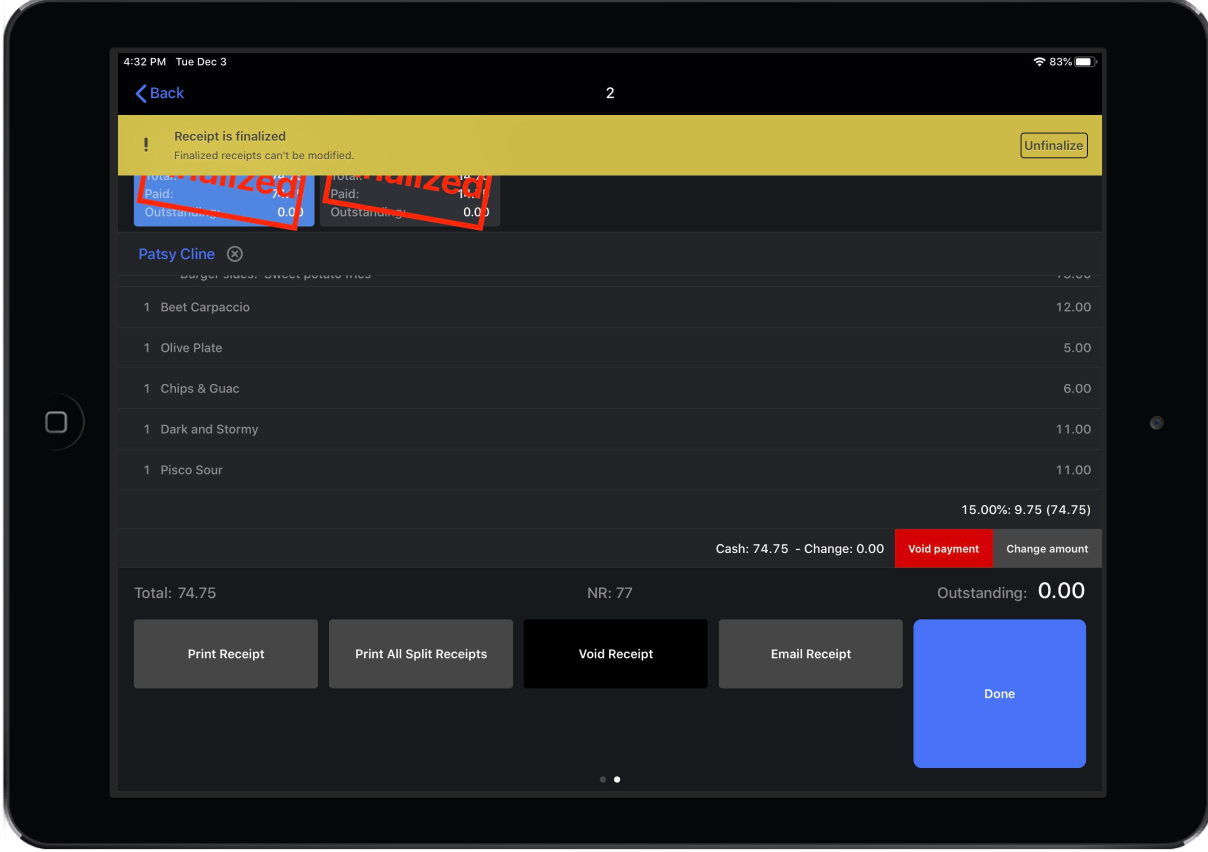 Unfinalize a receipt
Once you have opened a finalized receipt, you may wish to unfinalize the bill to apply a different payment type. Please note: you can only unfinalize a receipt up to a week after it was finalized.
Tap the Pay icon to enter the Payments screen.
To unfinalize the receipt, slide the total amount paid to the left and tap Void Payment.
A pop-up message on the top of the screen will appear prompting you to re-open the receipt. Tap Unfinalize to re-open the receipt.
Proceed to edit the order or payment type.
To void the receipt, see Voiding a finalized receipt.