The detailed Payments screen in Restaurant POS is where users may process payments and tips, print receipts, split bills, void receipts and more.
To access the detailed Payments screen, tap the More button at the bottom of the Order screen.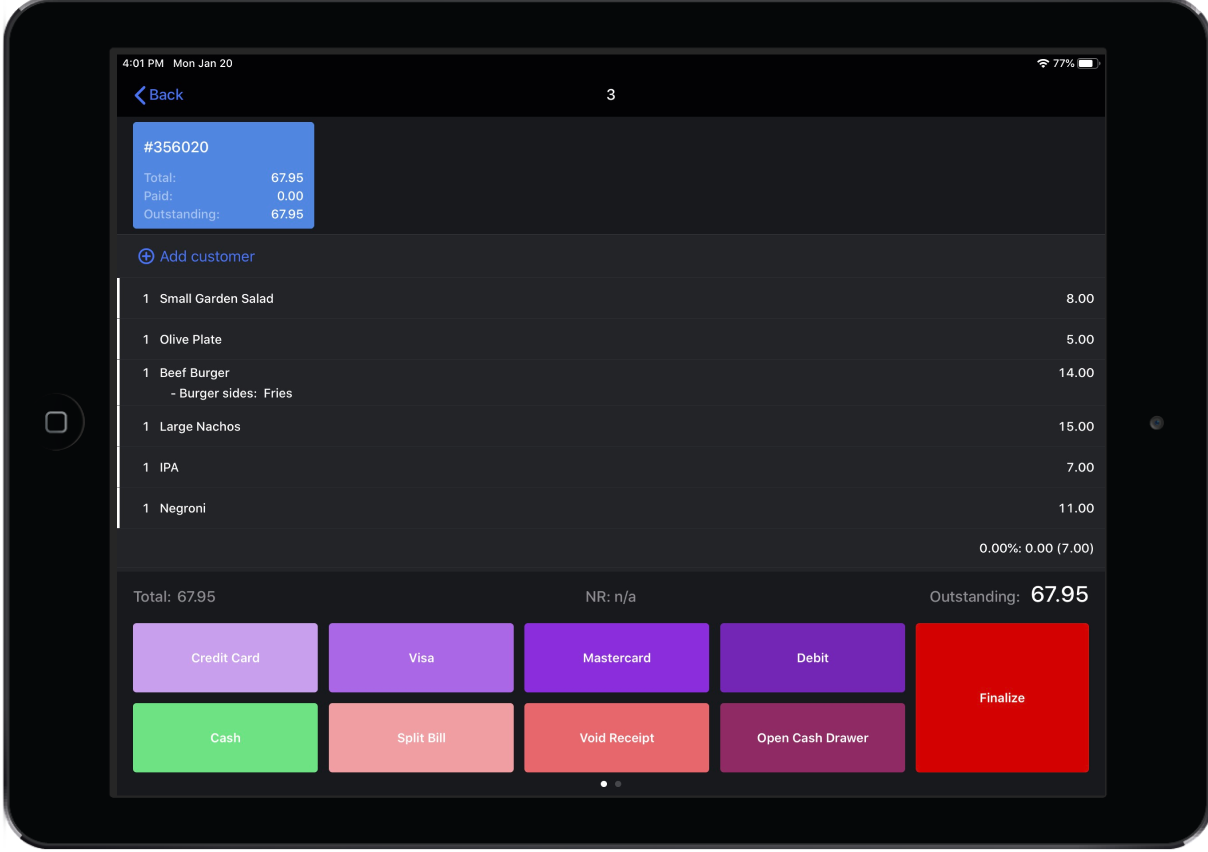 Detailed Payments screen components
Receipt(s)

The order receipts are at the top of the Payments screen. They display the total amount of the receipt, the amount that has already been paid, and the remaining balance.

Tap on a receipt to open its order details and process a payment.

Order items

The order items for the open receipt are listed in the middle section of the Payments screen. They display information related to the item names, the quantities ordered, and the price.

Receipt ID
The receipt ID is shown at the top of the order receipt on the Payments screen.
Taxes
If applicable, the receipt's taxes will show below the order items on the Payments screen.
Total
The total amount due for the receipt displayed.
Payment and other action buttons

Depending on what is configured in Restaurant Manager, the available payment types or methods will show here.

From this page, action buttons such as Split Bill or Void Receipt are also displayed.

If more than 8 payment or action buttons are configured, you can swipe left/right to view all.

Finalize button

After a payment has been processed for the receipt, tap Finalize to close the order and return to the Tables or Order screen.

Note: Once a receipt is finalized, you can not apply any further payment methods unless the receipt is un-finalized. See Opening or voiding a finalized receipt.
Processing a payment on the detailed Payments screen
Since the Order screen in Quick Service mode displays only two payment-type buttons, it may be necessary for a user to navigate to the detailed payment screen to access additional payment types. The first two payment-type buttons on the Order screen will always display Cash or Card. To add additional payment types or action buttons to display on the detailed payments screen, see Adding a Payment Type.
Once a user has navigated to the detailed payments screen, they may select the payment type button for the order and the payments panel will appear. For more information on entering payment amount information depending on the payment type, see Using the payments panel.
What's next?