The Locations page of the Back Office is where you can set important information and settings for your Order Ahead web app: configure your location address, enable curbside pick up, add a custom note for your customers, or set certain hours for accepting orders.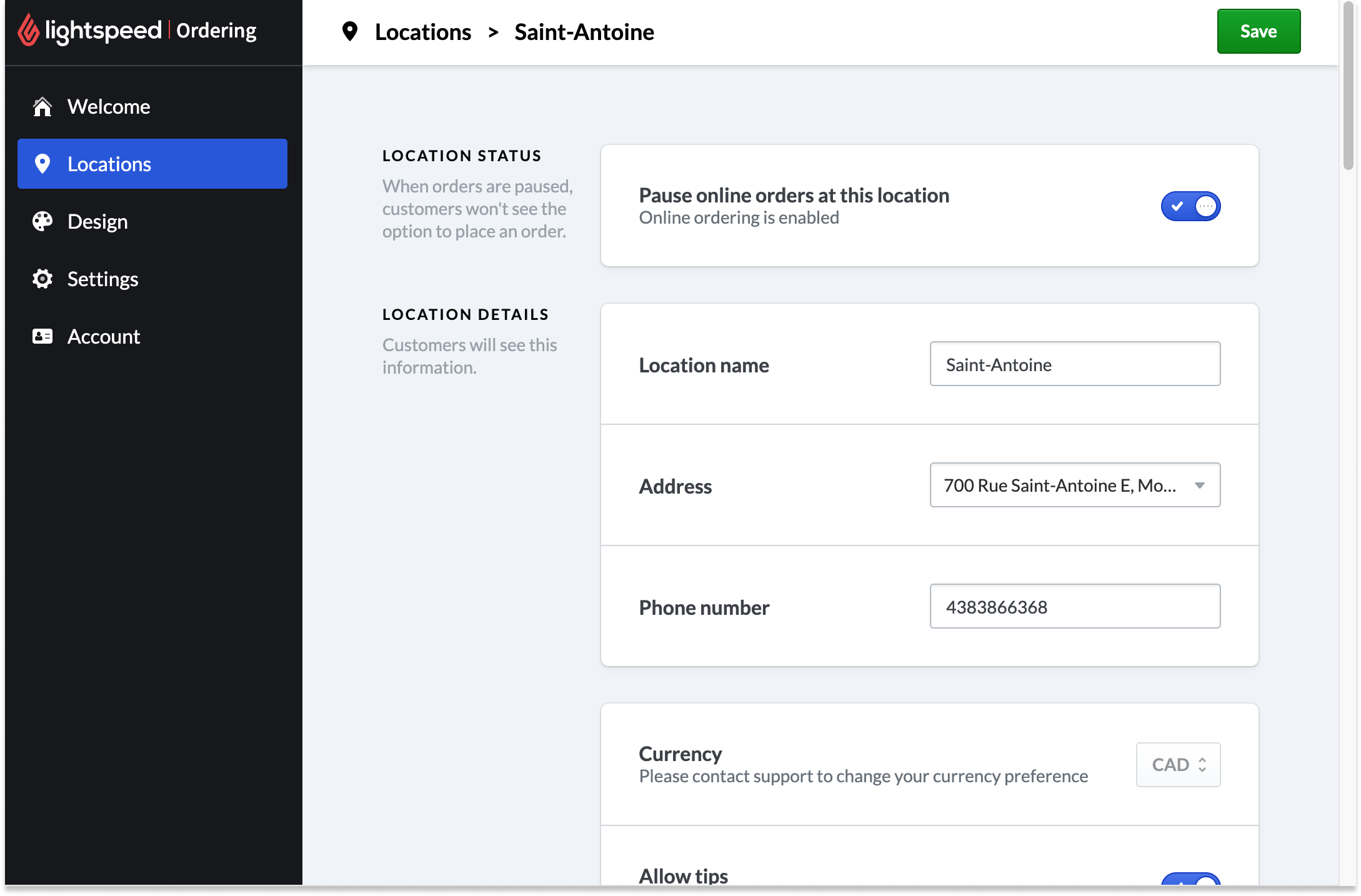 This article explains how to configure the following settings from the Location page:
Locations page
The Locations page provides a snapshot of your Order Ahead businesses. If you just have one business location, you will see just one location on this page. If you have more than one location set on Lightspeed Restaurant, you will see these locations listed here. The Location page provides an overview for each Order Ahead location: view each location name, address, phone number, online status, and visibility.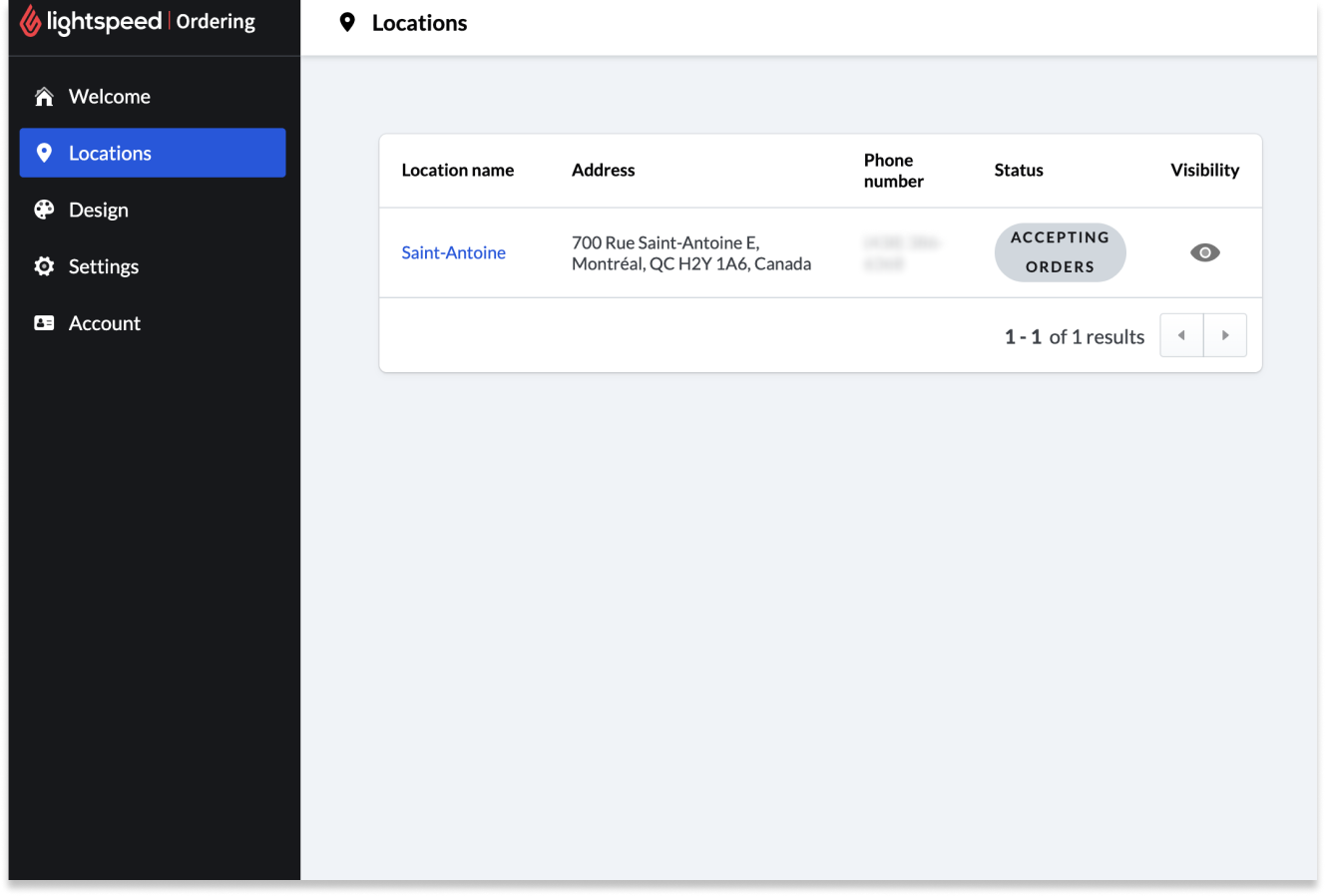 Edit each location individually by selecting the location name on this page. After selecting a location from the previous page, you will be brought to that location's detail page where you can edit the following info.
Location status
Location status: When this setting is enabled, the location is accepting orders within the set ordering hours. When this setting is disabled, ordering is paused. This is a useful setting if you are ever in a rush and need to pause online orders for a while.

Location details
Location details: This is the main contact information for this location. The location name, address and phone number details are pulled from Restaurant Manager.
Currency is also set according to your Restaurant Manager - if this information needs adjustment, please contact our Support team.
Enable the allow tips setting if you want customers to have the option to leave a tip on their order.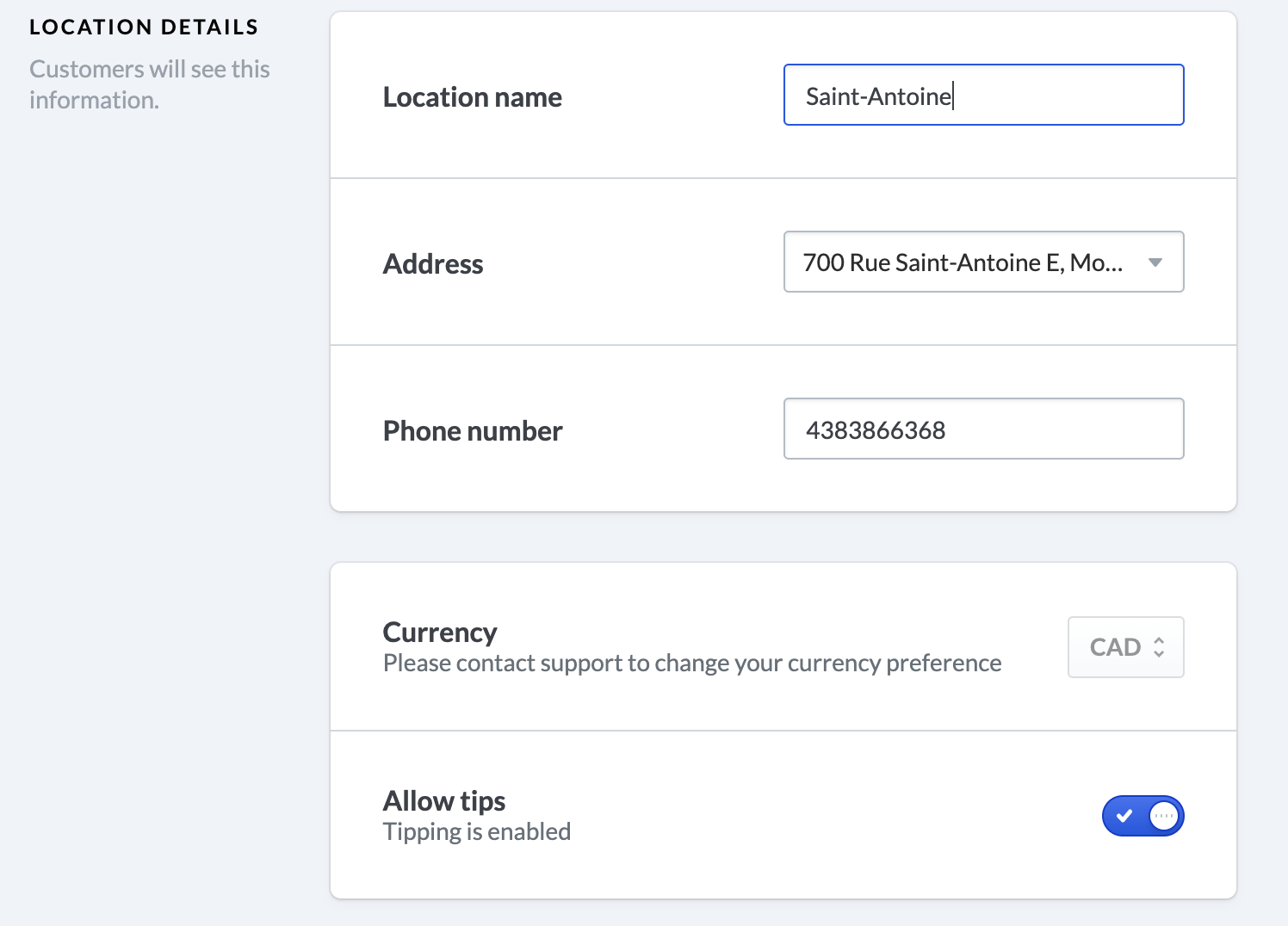 Menu configurations
The Menu configurations settings allow you to customize how the menu appearance on your Order Ahead web app. By turning on the enable menu sorting setting, you can specify if you want your menu items to appear alphabetically or by SKU.

Please note that your Order Ahead menu items are edited from Restaurant Manager. For more information on creating your menu, see configuring your online menu from Restaurant Manager.
Order options
The Order options settings allow you to give additional ordering options for your customers.
Enable the offer curbside pickup setting to provide custom curbside pickup instructions on your customer's order.
The offer orders at future time setting allows your customer to choose an advance time for when they want to pick up their order.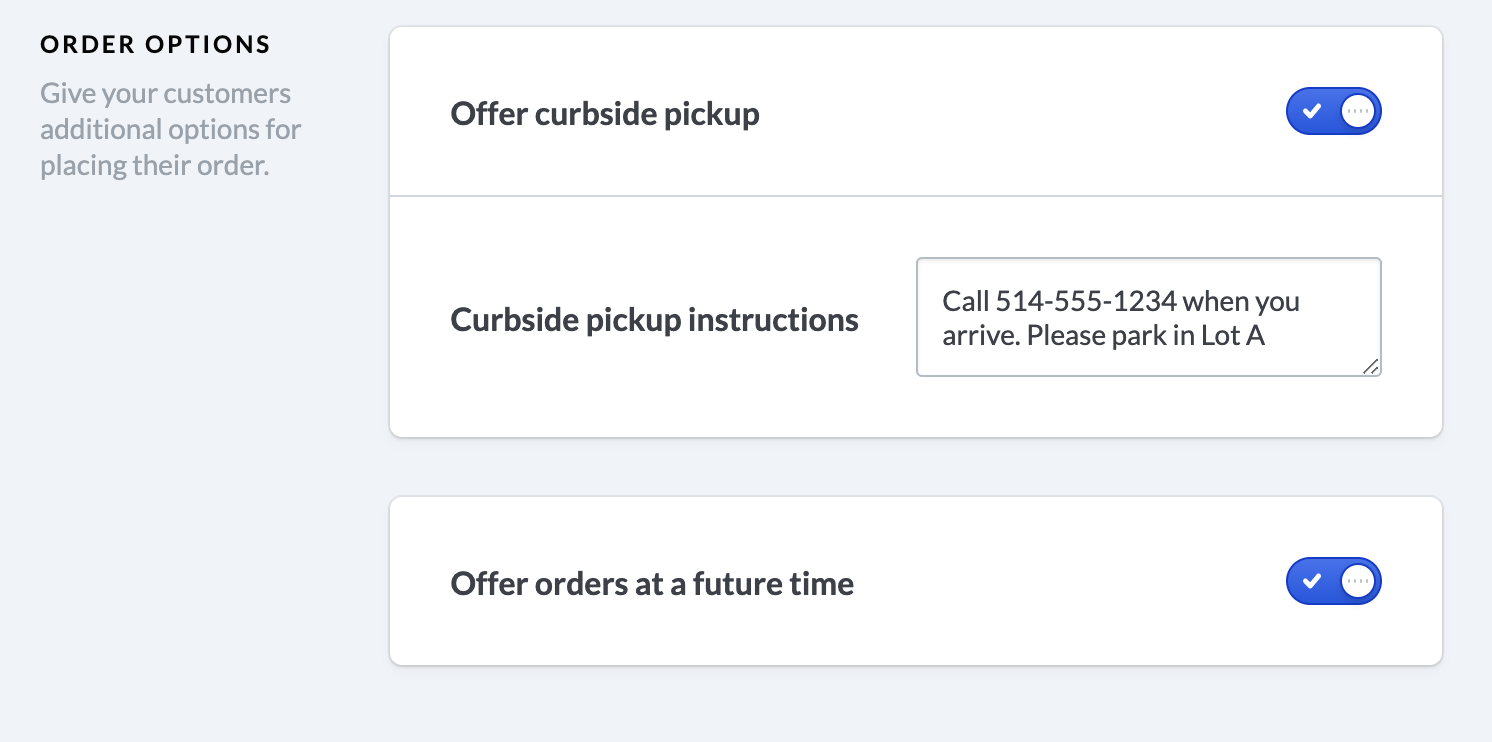 Note to customers
Enable the Display a note to customers setting to leave a custom note for your clients, such as "Let us know if you want to skip utensils." Once enabled, enter a custom note in the Note to display field. Customers will be able to view your note and also add a custom note to their order.

Prep time
To give your customers an estimate of how long it will take to prepare their order, enable the estimated prep time setting and specify the approximate time in minutes.

Ordering hours
This is where you set your available ordering hours for this location. Customize the ordering hours for each day of the week and add multiple time blocks throughout the day. Once saved, these hours are immediately reflected on your Order Ahead mobile app, so you may adjust these hours whenever needed.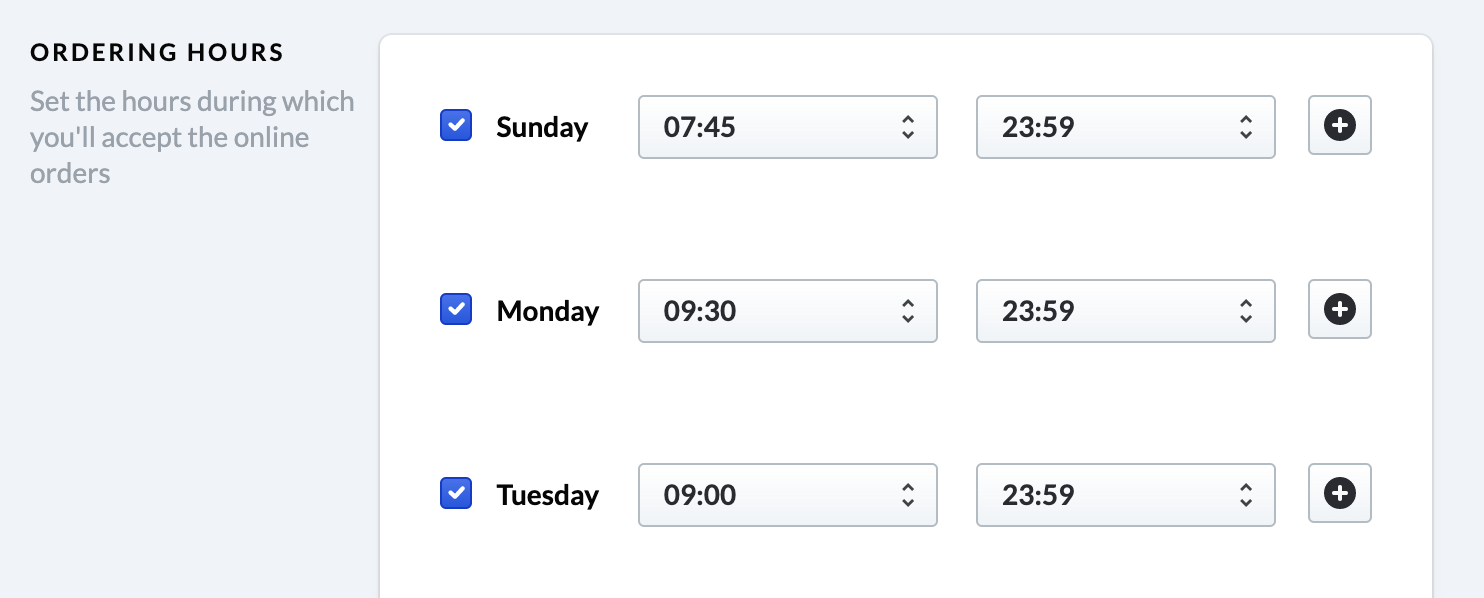 Peak hours
If this location often has peak busy hours, you can communicate the expected prep delay to your customers. Enable the set a peak hour prep time setting and customize your busiest prep times in the fields below for each relevant day. Then, set a peak hour prep time below.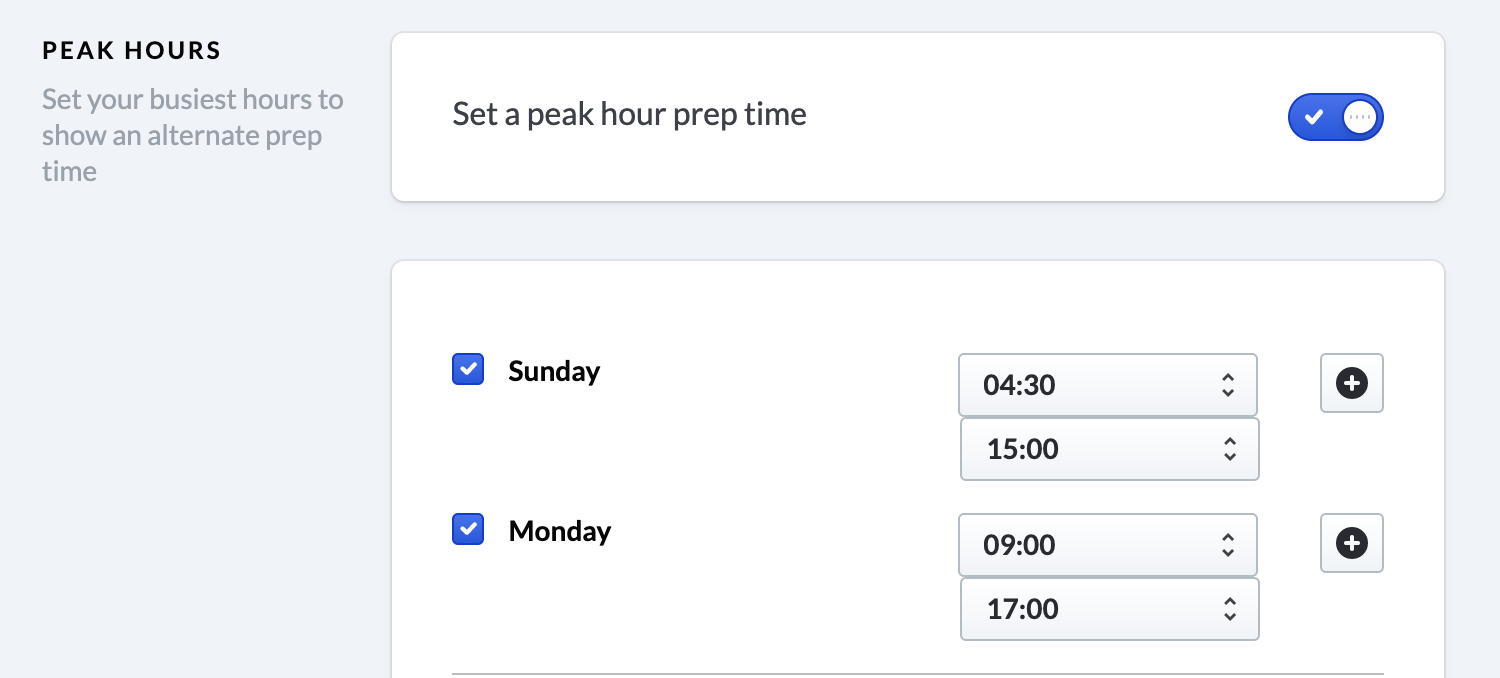 Peak hour prep time
If you have enabled the peak hour prep time setting, provide the custom prep time for orders placed during peak hours (in minutes) on the estimated prep time field.

Location visibility
Set whether this location is visible for your customers. When the Hide location setting is enabled, the location is visible. When the Hide location setting is disabled, the location is hidden.

What's next?