BETA DISCLAIMER: Please note that the Gift Card feature is currently in limited beta testing. If you would like to participate in our beta program, contact us here. While in beta, the Gift Card Transactions page can only be accessed using the following URL: http://[servername].posios.com/management/en-US/#/payments/giftcard-transactions.
The Gift Cards Transactions page provides detailed information on individual gift card transactions. Use this page to help keep track of gift card sales and the resulting changes in monetary value.
Information on the Gift Cards Transactions page can be filtered by date/time period, location (in multi-location environments), and gift card ID. 
To access the Gift Card Transaction page in Restaurant Manager, click Payments > Gift Card Transactions.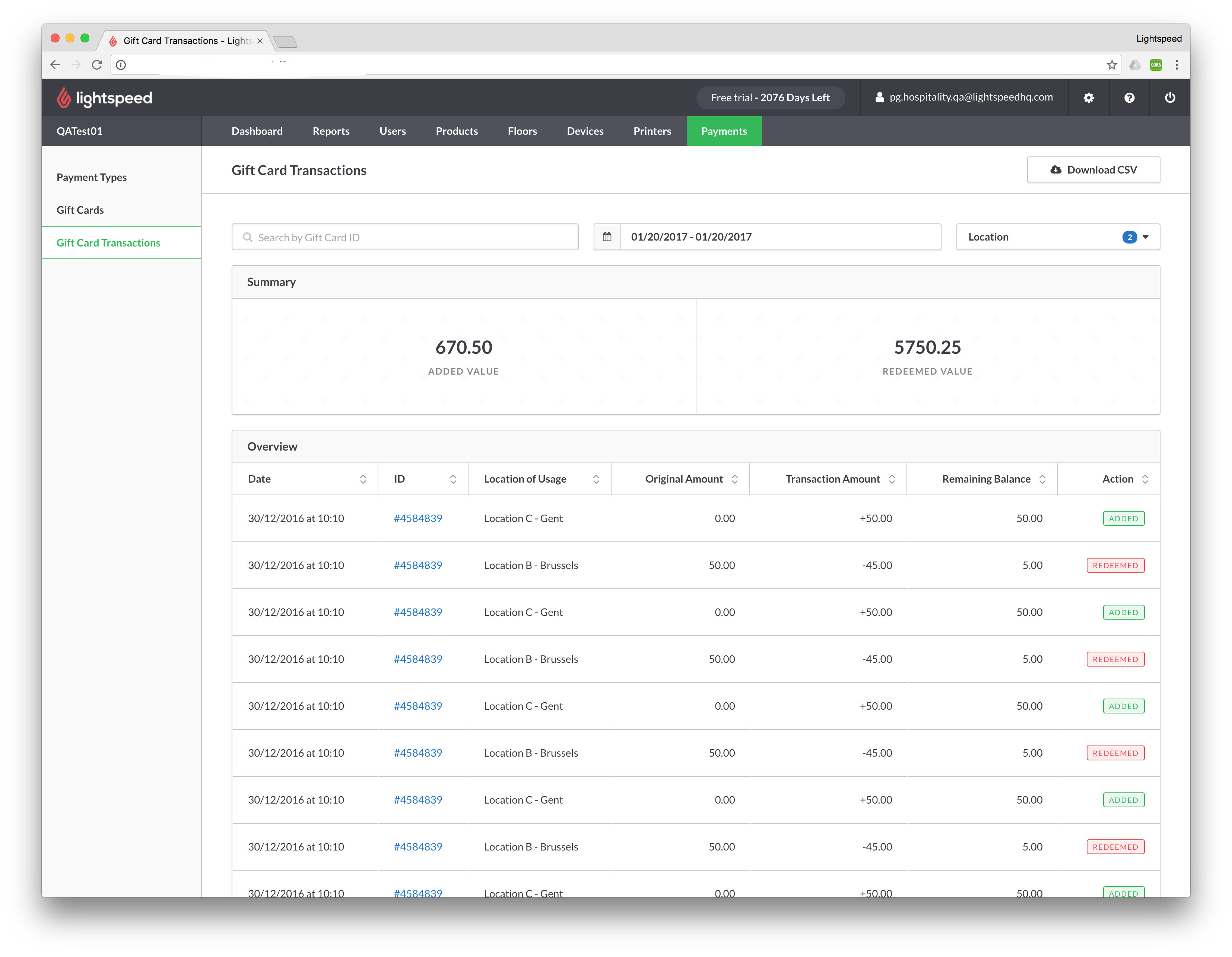 | | |
| --- | --- |
| Summary |   |
| ADDED VALUE | The monetary amount that has been added to the gift cards during the selected time period. |
| REDEEMED VALUE | The monetary amount that has been used as payment during the selected time period. |
| | |
| --- | --- |
| Overview |   |
| DATE | The date and time of the transaction. |
| ID | The gift card identification number that was designated when it was activated. |
| LOCATION OF USAGE | Where the transaction occurred in multi-location environments only. |
| ORIGINAL AMOUNT | The original monetary amount of the gift card when it was activated. |
| TRANSACTION AMOUNT | The monetary amount of the gift card transaction. |
| REMAINING BALANCE | The unused monetary amount that remains on the gift card.  |
| ACTION | Whether the transaction added or removed value to the gift card. |